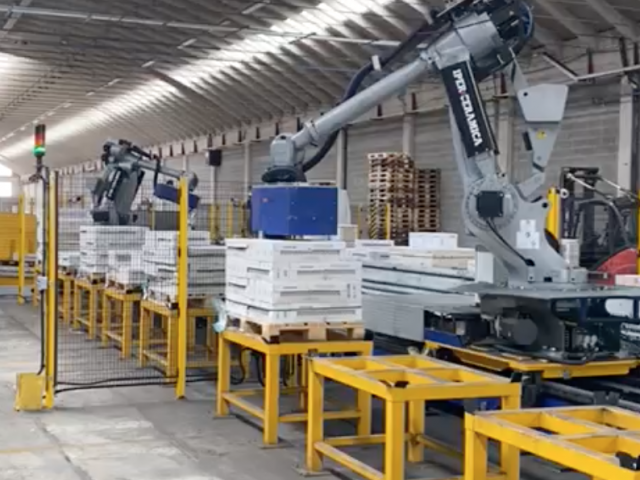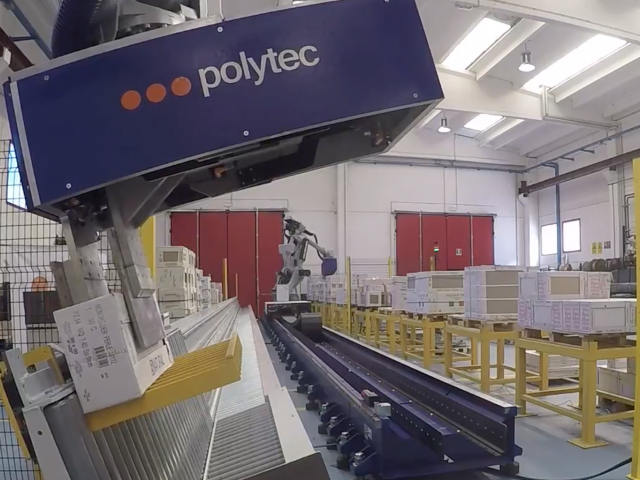 A few months after the commissioning of the first automate Bin Picking line, Bayker Italia S.p.A. entrusts BM Group Polytec with an extension project for the automatic loading of tiles.
What about this new project?
Mauro Schivalocchi (Project Manager). We are very happy to implement our first reference and to let the partnership with Bayker Italia grow. The new project involves the installation of a robotic system for the composition of trays, which will provide the palletizing cell just completed with the materials for the palletizing of the orders to be prepared, with AGVs that will manage a new warehouse of about 2500 square meters. Ceramics are loaded from a new robotic cell on these trays (special metal pallets with dimensions of 800x1200mm euro pallets and equipped with RFID), moved by six AGVs that store them in the warehouse and brought on request for the necessary processing. This solution will make the pick up easier and faster. We're proud to be part of this new and relevant innovation project. 
With the addition of AGVs to its offer, combining them with Automation platforms and Robotics, Polytec completes the ideal set-up for Intralogistics.
Mauro Schivalocchi (Project Manager). Once again, Polytec invested in research and development to increase its low how. We have decided to design and build the AGVs in house, to size them for the heaviest use, in order to offer a tailor-made solution. By achieving the first part of the project, we're now able to easily interface all systems, improving production efficiency and an increasing safety and health of workers, thanks to automated handling loads.