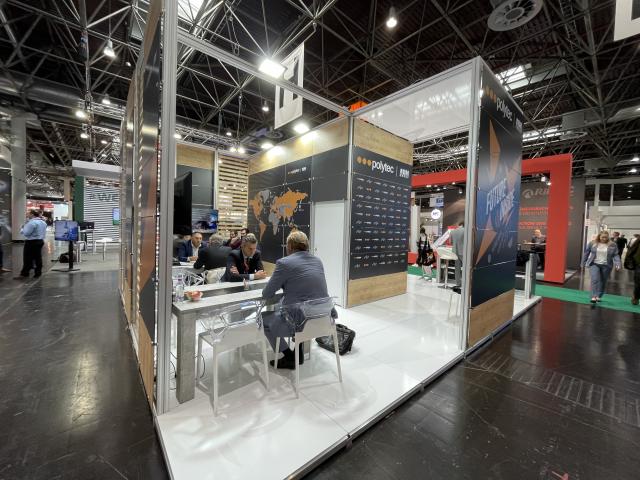 DÜSSELDORF - Aluminium 2022, the world's leading trade fair dedicated to the aluminum industry, closes today.
After two years of waiting, the entire supply chain met in Düsseldorf to face the current challenges of the market by bringing together more than 100 countries, producers, processors, end consumers and technology suppliers for the entire chain.
With a stand of almost 50 square meters, Polytec presented itself for the first time among the exhibitors, bringing its thirty years of experience in system integration, process control and the development of robotic solutions.
Maria Avruyan: "Visitors and exhibitors welcomed us with enthusiasm, proposing the challenges of a sector that is rapidly approaching industry 4.0. In this perspective of technological growth, Polytec is ready to give its contribute."
The integrated solutions carried out for the most important manufacturers in the sector, have allowed Polytec to enter the heart of the production process and to imagine the integration of robotics, which presence is still scarce in this sector.
In just over five years, Polytec has been able to engineer and commission robotic cells the entire production process, making use of its multidisciplinary internal expertise, not only in engineering but also in software development and vision systems.
The benefits provided:
• Workers safety and liability reduction
• Error-free product identification.
• Downtime minimization
• Productivity improvement
Functions of some of our robotic solutions: Plate removal and replacement in the Ceramic Foam Filter, Coil waste removal from the rolling mill unwinder, Strap cutting and removal, Machine tending for aluminum component, Ingots handling and palletizing, Coils marking and tagging
By integrating automation with robotics, it is possible to achieve the full traceability of the product's data and to process them into a "product data sheet, at manufacturer's disposal as an objective certification of quality.
This is the obligatory route towards a new approach that seeks the continuous improvement of quality and production efficiency, the strategic key to remain competitive in a global market, paying attention to the issue of sustainability.